Adding WebPortal or control panel or datacenter for autologin in jump server
Article ID: 6 | Rating: 5/5 from 2 votes | Last Updated: Thu, Oct 18, 2018 at 2:29 AM
Checkout the Video from configuring  webportal for autologin  in jump server

The best way to figure out the settings to add a control panel or datacenter portal or Webportal to ezeelogin is to use an HTTP traffic analyser such as httpfox firefox addon (https://addons.mozilla.org/en-US/firefox/addon/httpfox/).

1. Open firefox (close all other tabs and windows)
2. Visit the URL where you login to the control panel or data centre portal
3. Fire up httpfox and click start button in it
4. Enter any random username and password in the respective form fields
5. Press enter key or click on the "Login" or similar button in the form
6. Wait till the process is complete (e.g. login failed message if you entered random username and password)
7. Click stop in httpfox
8. Find the row in httpfox that send the data to the portal (Usually Method = POST) and click on it. Details will be displayed in the bottom section of httpfox.
9. The URL in the above line will contain the protocol (https or http), host name or IP, port (if not the default for protocol), followed by request URI
9. From the "Headers" tab, the string that comes after 'POST' in "Request Line" is also the Request URI. "Host" would contain the host and port in the format host:port, :port would be missing if using default ports for the protocol - 80 for http and 443 for https
10. Click on the "POST Data" tab to get the username and password field names which will be the parameter names. Check the values of parameters for the random string you entered for username and password fields in the login form to identify the parameter names.
11. The remaining parameters in the above tab should go into the extra variables. If there are some random value parameters, it may be ignored. When there are more than two extra parameters, they can be added in extra variables but joining them with & like: param1=value1&param2=value2

See attached image for an example of adding Kayako helpdesk portal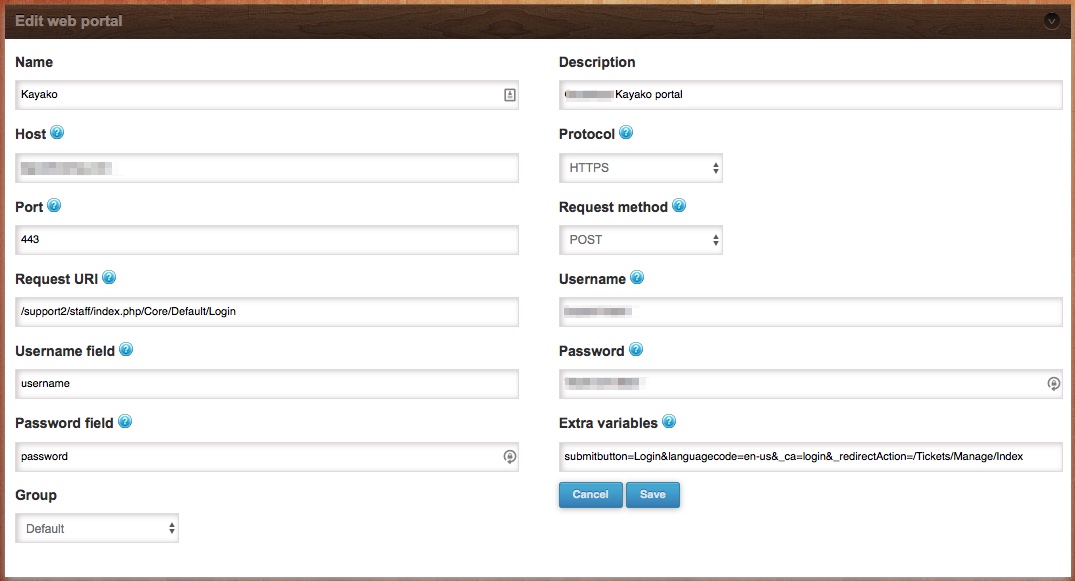 We can figure out the setting to add control or webportal without httpfox addon.
 1. Open Google Chrome
2. Visit the URL where you login to the control panel or data centre portal
3. Open Developer Tools From View > Developer > Developer Tools 
4. Open Network tab in the Developer Tools
5. Enter any random username and password in the respective form fields
6. Press enter key or click on the "Login" or similar button in the form
7. Wait till the process is complete (e.g. login failed message if you entered random username and password)
8. Select first one in the Name list and open Header tab
9. You can find the Request URL from the general section of headers tab will contain the protocol (https or http), host name or IP, port (if not the default for protocol), followed by request URI
9. Scroll the header tab and you can find username and password field names
10. Check the values of parameters for the random string you entered for username and password fields in the login form to identify the parameter names.
11. The remaining parameters in the above tab should go into the extra variables. If there are some random value parameters, it may be ignored. When there are more than two extra parameters, they can be added in extra variables but joining them with & like: param1=value1&param2=value2
 It may not work in all cases such as when the login is javascript based or when it uses certain dynamic security tokens.