How to configure Ezeelogin to authenticate using Open_Ldap(Pam-Ldap) in ubuntu?
Article ID: 190 | Rating: 5/5 from 1 votes | Last Updated: Thu, Nov 26, 2020 at 9:28 AM
Integration of Open-LDAP (PAM-LDAP) in Ubuntu
Make sure that PHP-LDAP extension is installed on the server 
 1. Login to Web-GUI > open settings > Ldap 
Add the details in LDAP setting page.Check the following video to fill and configure Pam-LDAP



 Add the details of LDAP configurations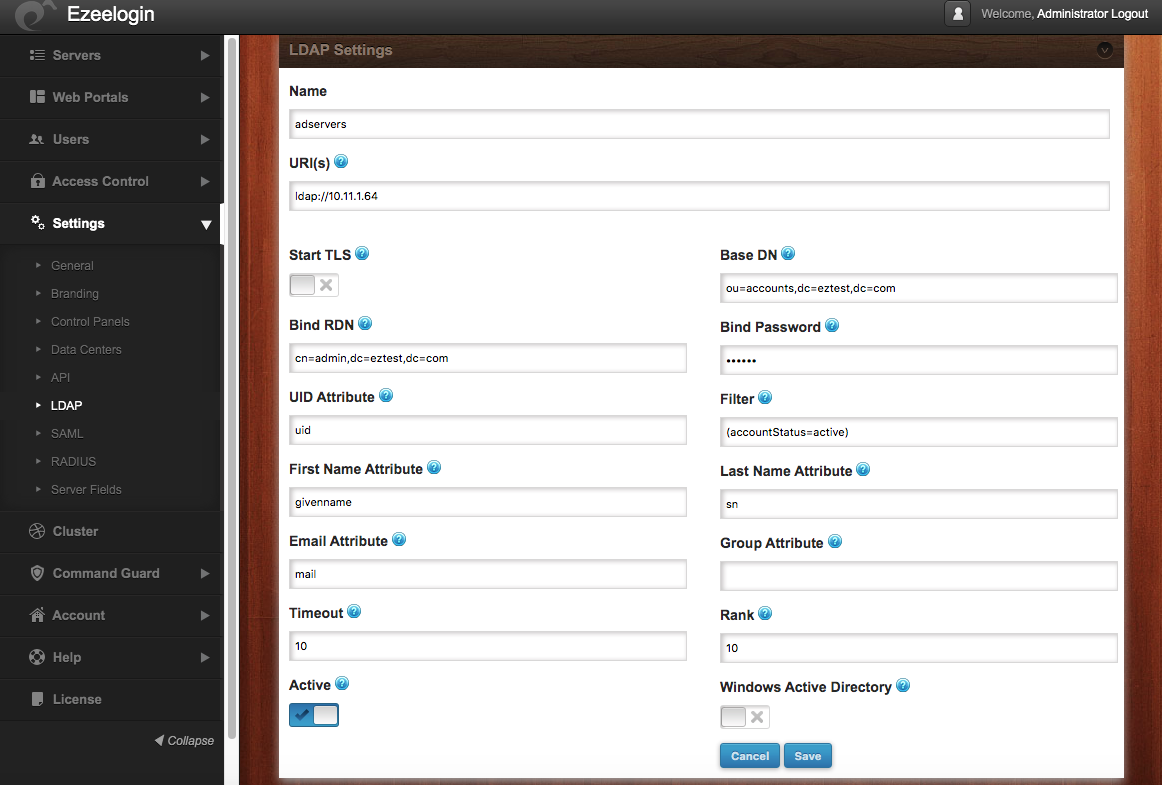 2  Under settings > general settings >  Authentication > change Webpanel authentication to ldap & Check PAM Authetication

3. Select the LDAP users and import to ezeelogin

you can confirm the imported LDAP users were listed in Users 
Now you can login to ezeelogin with ldap user in ezeelogin GUI
Let's configure PAM_LDAP Authentication for SSH
*Login to ezeelogin ssh server to configure 
pam-
LDAP
1. Install pam-LDAP module by the following command
2. Enter LDAP URI, Base dn & select Ldap version 3
 Enter the details in LDAP setting. you can use the above video to fetch details  
3. 
Add Binddn&bind password  /etc/ldap.conf
ln -s /etc/ldap /etc/openldap
4. Append '
ldap
' to password,group & shadow in /etc/
nsswitch
.conf  
root@tech2:~# cat /etc/nsswitch.conf
# /etc/nsswitch.conf
#
# Example configuration of GNU Name Service Switch functionality.
# If you have the `glibc-doc-reference' and `info' packages installed, try:
# `info libc "Name Service Switch"' for information about this file.
passwd:         compat  ldap   
group:          compat  ldap
shadow:         compat  ldap
hosts:          files mdns4_minimal [NOTFOUND=return] dns
networks:       files
protocols:      db files
services:       db files
ethers:         db files
rpc:            db files
netgroup:       nis
     Refer the above video for more information
5.  Enable autocreate home directory on login by adding the following to /etc/pam.d/common-session by the following command
Ensure the login shell of ldap user is /usr/local/bin/ezsh  
Now run the id / finger command and see whether you are able get LDAP user details
Run an ldapsearch to check the values returned from your AD server as follows. This is used for troubleshooting.