Article ID: 208 | Rating: 3/5 from 2 votes | Last Updated: Wed, May 6, 2020 at 12:24 AM
Recording ssh sessions - How to enable it on the bastion host (also called a " jump server " ) 
This feature lets you record ssh sessions of ssh users ( system admins, system engineer , developers ), accessing remote  Linux servers /  vms / cloud instances via the ssh protocol.  The requirement is that  the sshd daemon has to be installed on remote Linux servers which can easily  be done by installing  OpenSSH packages. The OpenSSH packages can easily be installed on most Linux distributions available in the market. ( Centos 6, Centos7, Centos 8, Centos 5, Centos 4, Ubuntu 14, Ubuntu 16, Ubuntu 18, SUSE, RHEL , Fedora , Freebsd and more. ).
There is  NO need to install a agent on the  Remote Linux servers to record ssh session of users accessing the servers via ssh.
 The ssh session recorded  lets you audit the ssh users accessing  the Linux servers remotely via the ssh protocol. You can also monitor a ssh user in real time.  You can also search the entire logs recorded for a string or pattern which  is very useful to perform security audits  on various security incidents, lapses, security forensics etc. This is useful for meeting security compliances like pci dss, hippa, nist , nerc, ffiec etc.
To enable ssh  recording for the SSH Users on the jump server,
Navigate to Settings->General->Security->SSH Session Logging


There are 3 settings to record the ssh sessions
None - This would disable ssh session recording.

Input - This would record only the STDIN , which would be the keyboard inputs of the ssh jump server user. 

Output - This would record only the STDOUT which would be the outputs on the screen of the jump server user.

Both - This would record both the STDIN and STDOUT of the ssh session.



 





 
How to view the ssh session recorded?
Navigate to users->SSH log and select the jump server user and the server  to view the recorded session for that server.





Click on the 'Log type output' to view the entire ssh session recorded for the user john on the server tesla.eznoc.com.  As you can see the entire ssh session is available.






 How to view the ssh session recorded in real time or view the currently on going ssh session of jump server users live?

Click on enable streaming and choose the interval of 1 second and you will be able to what the jump server user is doing on a server in real time. 




 

How to encrypt ssh session log recorded to meet security compliances?
You can enable 'Encrypt ssh session logs' under Settings->General->Security so that logs are not human readable. Note that the logs are only readable from the gui and the ssh logs are  stored in the /var/log/ezlogin directory.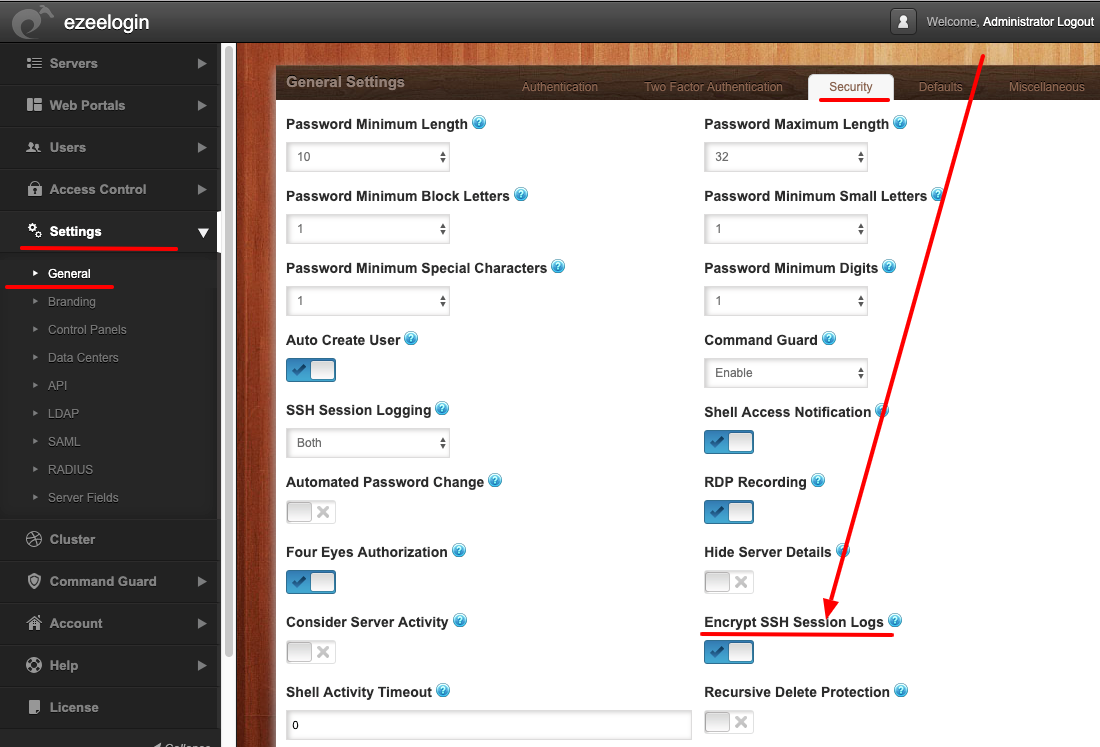 How to search the ssh session log recorded for strings or keywords?
Enter the string to be searched in the field 'Log Content'.  The results show the matching logs and user,username with which the server was accessed and the login and logout times are recorded as well.